This shop has been compensated by Collective Bias, Inc. and its advertiser. All opinions are mine alone. #TeaProudly #CollectiveBias
It's Victoria Day long weekend coming up, and I cannot tell you how excited I am. There's a royal wedding in the works. The sun is shining, and we finally got our patio back after a year of construction. Oh, and its the Queen's birthday!
Victoria Day, or May 24 as I grew up calling it was always a time to sit and relax, hang out with friends, do some spring cleaning and just basically enjoy yourself. That's exactly what I have planned. That and sharing some frugal finds with you guys on how you can decorate your patio on budget while enjoying a nice cup of tea.
It began with them ripping off my balcony. Okay, so it wasn't a large balcony but it was my only outdoor space. For next year this was all we had to look at. Each morning the banging began and didn't end until 5 pm. I kept telling myself it will all be worth it in the long run. I'm sure glad I was right.
Our small apartment balcony went from twelve feet by two feet where you could barely fit two small chairs to twelve feet by nine feet. Wow, right? I now have a small patio/yard to enjoy and entertain friends and family with. I'm so excited! Now it's time to start decorating.
---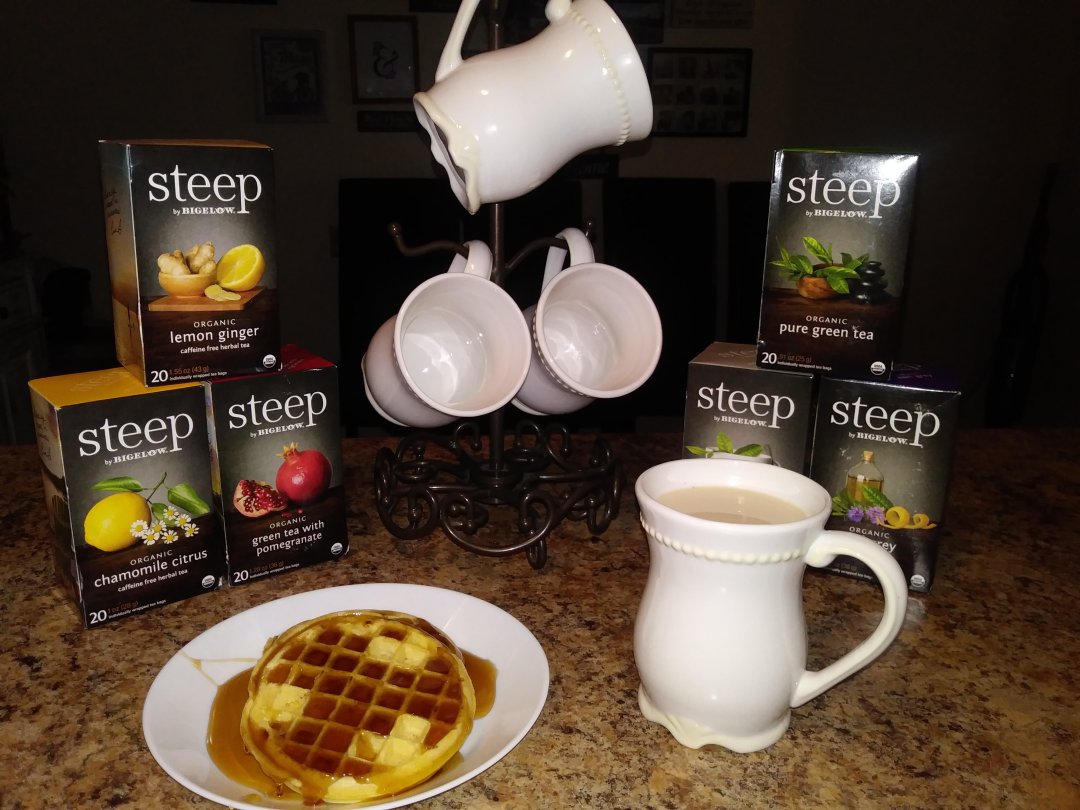 You cannot decorate your patio or go on the hunt for frugal finds without starting out with a good breakfast and something warm to drink. I love to start my day with an English Breakfast and some Bigelow Steep Tea a brand new blend of organic steep teas available at Walmart Canada and coming online soon… Roll over the photo above to shop for select tea flavors. My favorites are, of course, English Breakfast and Lemon Ginger!
Shopping for patio furniture doesn't have to hurt your wallet. I got this great wicker set while browsing bidding wars in my local area. Check garage and yard sales, even look for memos posted in your apartment for things people are selling you can use. You can find the right patio furniture to suit your comfort and style. This beautiful set came with two chairs, loveseat, and coffee table and only cost $150 bucks!
When it comes to patio decor look at your local dollar store. I found these fantastic frugal finds at our local dollar store. Add some white rocks to a small vase with some pretty fake flowers to put on a side table for some color. I love the light bulb candle holder I snagged for a buck. Perfect for some added lighting. And I picked up some pebbles to create a work of art, bird on a tree to add some outdoor photo flare!
---
Now that my patio is decorated and complete, breakfast was on the menu. I love having breakfast in an outdoor space I can enjoy, and an English Breakfast (waffles & maple syrup) is a perfect choice.
This weekend while all the festivities are going on and the sun is shining, you will find me lounging on my wicker furniture drinking #TeaProudly.  I think even Oreo (my farm kitty) is going to enjoy lazing about this may long weekend.
I'm not sure who is going to stop by this weekend. I think my parents may make a visit, and my girlfriend Stephanie I know want to enjoy the sunshine and watch the royal wedding.
I'm happy that Bigelow Steep Teas are here in Canada and come in a variety of flavors for me to offer my guests while they visit. In fact, they have 6 brand new flavors, chamomile citrus, earl grey, English breakfast, green tea with pomegranate, lemon ginger, and pure green tea. At least I know my guests won't be disappointed.
They can sit with me on my new patio, enjoy the weather, and some great conversation. Is there anything better?
---
PIN ME!
---
Do you love tea? For more information, you can connect with Bigelow Tea via Facebook, Twitter, or Instagram and tell us how you celebrate #TeaProudly.